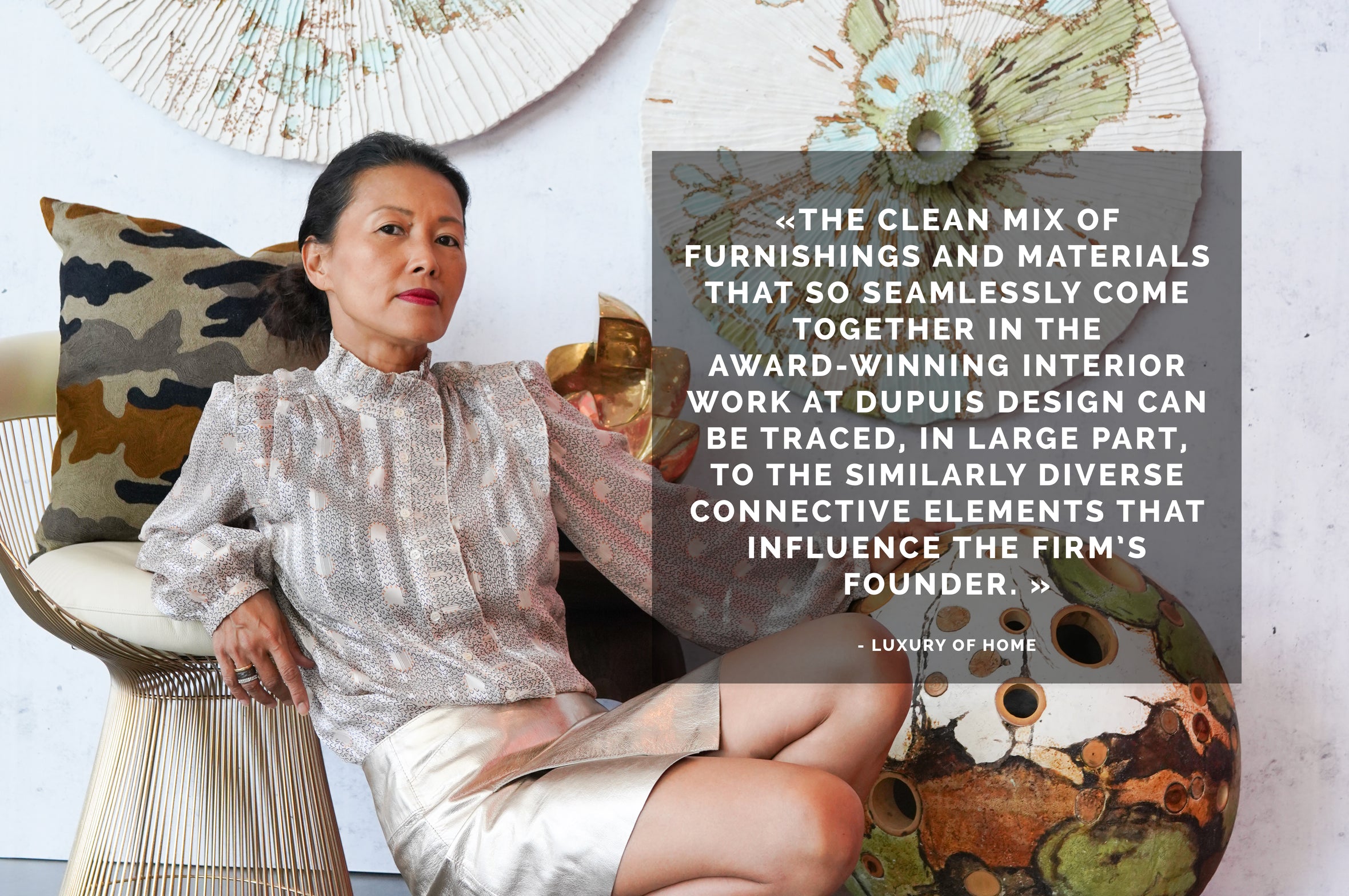 THE PEGGY DUPUIS TOUCH
Peggy Dupuis, Chief Designer at Dupuis Design, was born in the Philippines and raised in California. Her parents were connoisseurs of Asian art and numismatics. She has previously worked in textile design in Hong Kong for 5 years. Her work ultimately led her to her real passion: Architecture and Interior Design.
Peggy has worked as a resident architect in Paris, France for over two decades. She has worked in domains as varied as interior design management, renovation of period furniture, exquisite work in tapestry, concrete flooring, and ornamental plasterwork.
Mrs. Dupuis also incorporates principles of Feng shui, reinterpreted for the contemporary 21st century residence.
Every aspect of design is equally important. The materials, furnishings, and décor must sing a flawless harmony, so much so that the homeowner's personality exudes from the room. We get to know exactly who you are and create beauty in your home that will express it through our unique interior and exterior designs.

Our vast network of designers, artists, technicians, specialist craftsmen, and suppliers of curios and antiques is what sets us apart from the rest. Owner, Peggy Dupuis, travels the world and handpicks pieces and treasures to place in her showroom for her client's to peruse and shop. We aim to construct forward thinking modern spaces, while still giving a gentle nod to tradition. Perfectly contemporary and modern – this is Dupuis Design.
Dupuis Design strives to deliver high quality living spaces for its clients. Our full scale services include design, decoration, and furnishing. We have designed projects ranging from private residences and boutique hotels to wellness centers and high-end spas, delivering the unique Dupuis touch that brings together comfort, functionality, energy, and novelty in a unique synergistic manifestation.
Dupuis Design is based in Paris, France and California, United States of America. We accompany our clients across international borders by maintaining regular on-site presence or through remote management of on-site suppliers and contractors.